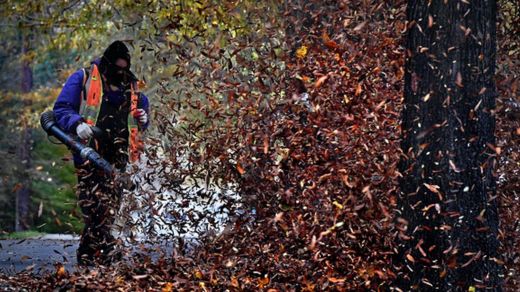 The German Government is concerned that leaf blowers are a threat to insects and the environment as they pollute the air with noise and emissions.
The ministry said leaf blowers should only be used if they are "indispensable". Despite this statement, they are not planning to ban leaf blowers.
This warning came out after the studies that insect numbers were declining rapidly in Germany and further afield.
Research in 2017 showed that flying insects plummeted by more than 75% over 30 years at 60 conserved areas in Germany. Scientists were unsure of what caused the dramatic decline. Experts say that it is being caused by climate change, intensive agriculture and pesticides.
In February 2019, scientists found out that 40% of species are going through dramatic rates of decline across the globe.
In September, the German Government announced a $113m action plan to protect insects. This plan restricts the use of pesticides and boldens environmental regulations. For example, the weed killer glyphosate will be banned in Germany by 2023. The warning about leaf blowers is the latest move in their action plan.
Experts say insects make up the majority of creatures that live on land and provide key benefits to many other species, including humans.
Other studies in recent years have shown that individual species of insects, such as bees, have suffered huge declines, particularly in developed economies.